Interlaced: Our Purpose Woven into Art
Interlaced: Our Purpose Woven into Art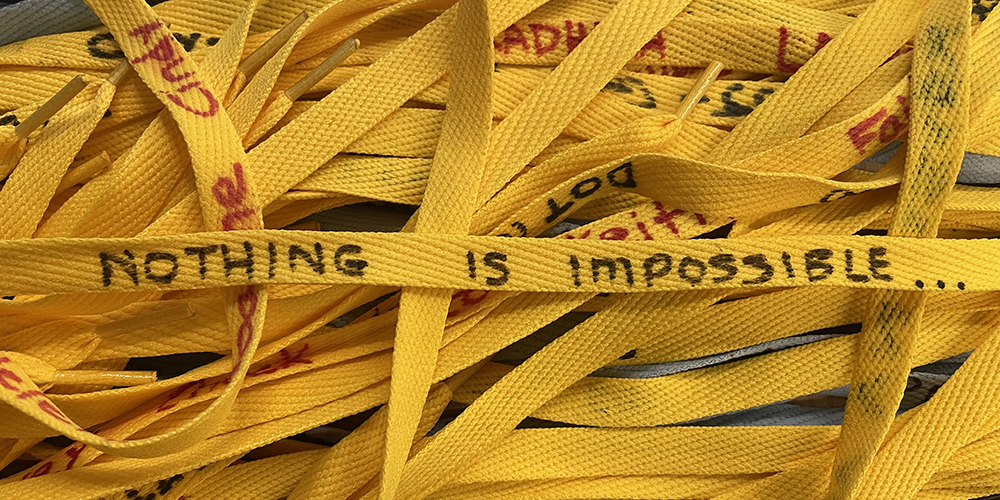 What might look like an ordinary wreath displayed at our U.S. headquarters is a powerful symbol of our collective hope and united purpose—to serve patients with compassion.

The focal point of "Interlaced" is a bow created from yellow and white shoelaces, dedicated by Daiichi Sankyo employees from the United States, Europe and Japan to people in their lives who have been touched by cancer. They include tributes to loved ones as well as messages of support to family members, friends and all patients living with the disease.

The shoelace dedication, woven into an artistic reminder of our collective compassion for patients, is the cornerstone of our In Their Shoes initiative, a series of opportunities to learn, grow and strengthen our patient mindset. The handwoven wreaths were inspired by traditional Shimenawa in honor of Daiichi Sankyo's Japanese heritage. Shimenawa are lengths of straw or hemp rope used to demark sacred spaces and ward off disease in the Shinto religion. Shimenawa are traditionally displayed at the entrances of homes in Japan at the start of a new year.

Inspired by the courageous patients and fearless advocates who selflessly share their experiences with us, "Interlaced" is a daily reminder of their stories, our proud heritage and the compassion of our employees woven together.