Turning Fellowship Into A Fulfilling Healthcare Career
Turning Fellowship Into A Fulfilling Healthcare Career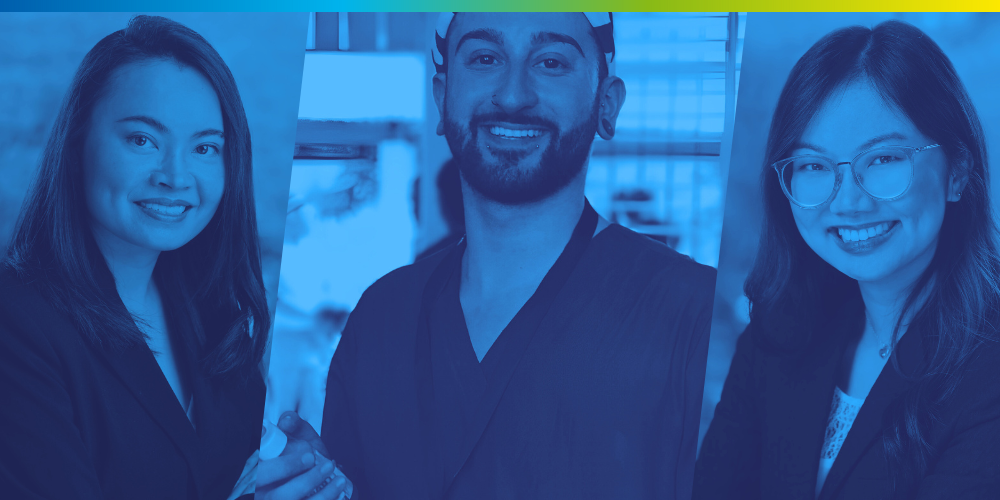 In partnership with the Ernest Mario School of Pharmacy at Rutgers University, Daiichi Sankyo's PharmD fellowship program provides hands-on experience and exposure to the pharmaceutical industry in an environment a recent graduate called "one great package."
Here, three members of the Class of 2023 who transitioned from fellows to full-time employees, describe the role the organization's values, pipeline and culture played in selecting Daiichi Sankyo as the place to launch their careers in healthcare.
Mission Accomplished
Andrew Perez-Viñas
While participating on a medical mission in the Dominican Republic, I had the opportunity to provide medications and counseling to underserved patients. This experience highlighted the significant impact I could make as a pharmacist by ensuring individuals have the medications they need to treat their conditions. For most of my time studying to be a pharmacist, I saw myself ending up in the retail setting where I could feel that impact on a daily basis. When I decided to explore the industry route, I wanted to be sure I would still be able to make that connection.
At Daiichi Sankyo, I discovered a community that shared my passion for innovation while demonstrating a deep commitment to the well-being of the patients it serves. Following the completion of my two-year fellowship, I became fully convinced this organization was the ideal environment for me. The only challenge was deciding which area to continue my career in. Throughout my fellowship, I was exposed to various functions within U.S. Medical Affairs and I ultimately chose to pursue a role in Medical Information & Education.
Moving forward, I intend to stay involved with the fellowship program as a resource for other fellows. I am eager to give back to the program which opened numerous doors for me.

An Instant Connection
Brittany Tran
Daiichi Sankyo stood out right from the interview process. I immediately felt connected with the leaders I met with and their dedication to developing junior scientists. I think what makes the company truly special is the diverse backgrounds of its employees and learning how each person approaches their work with a unique perspective while we work collectively with one purpose of helping patients.
When we are entrenched in details of complex data, it can be hard to see the direct impact on patients. Daiichi Sankyo does a tremendous job reminding employees to take a zoomed out view and recognize the value of the work we are doing.
The sense of connection to the organization's purpose drew me to the fellowship program and made me want to stay. Now, as part of the team, I contribute my own perspectives about the medicines we are creating.
In Honor of My Grandmother
Thi N. Nguyen
When I was in high school, my grandmother passed away due to limited access to healthcare and chemotherapy. She was like a second mother to me. Losing her made me want to work to help improve therapeutics for people with cancer. I decided to leverage my love of chemistry and research and pursue a degree in pharmaceutical sciences.
It was a bold decision to leave my native country of Vietnam at age 19 to study in Southern California, where I completed my PharmD degree. Through research and rotations in hematology and oncology, I confirmed my interest in drug development. For my two-year post-doctoral fellowship, I was attracted to the strong learning culture, leadership and oncology portfolio at Daiichi Sankyo.
Dedicated mentors provided me with opportunities to develop and grow tremendously with hands-on experiences in an array of clinical development activities. Through my roles developing study protocols, contributing to strategies and looking at clinical data, I think about patients like my grandmother who need innovative medications, and it motivates me to continue working hard to make a positive impact in cancer populations. My passion, determination and hard-work brought me here today. I know she would be proud!
A Daiichi Sankyo PharmD Fellowship sets future pharmaceutical and biopharmaceutical professionals up for success in the industry. For more information about the Daiichi Sankyo fellowship program, contact Kimberly Small, Manager, External Talent Programs & Events, at ksmall@dsi.com, or download the 2023 Pharmaceutical Industry Fellowship Program Brochure.