The Next Generation of Healthcare Professionals Reflect on Their Internship at Daiichi Sankyo
The Next Generation of Healthcare Professionals Reflect on Their Internship at Daiichi Sankyo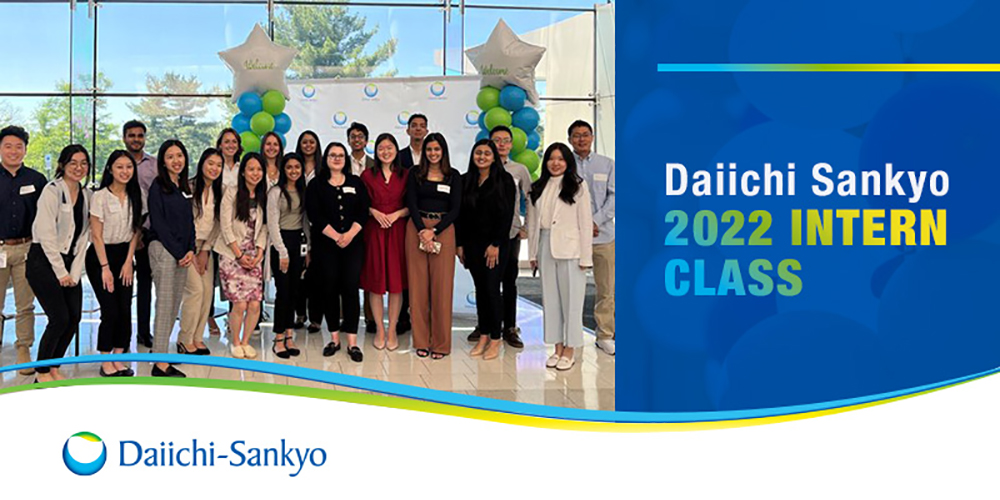 As children, they dreamed of being doctors, liked to figure out how things work and had a desire to help others. These are just some of the reasons Daiichi Sankyo's 2022 class of summer interns decided to pursue careers in the sciences and healthcare.

The ambitious group of students joined us at our U.S. headquarters in Basking Ridge, NJ from 14 universities in 10 states. They are majoring in everything from pharmacy and biology to information systems, supply chain analytics and healthcare marketing. Their professional interests span various aspects of the healthcare industry, including epidemiology, biostatistics, research and development, digital transformation and patent law. One thing they all have in common – a passion for helping patients and making a difference.

When asked why they decided to participate in the organization's internship program, several shared they were compelled by the company's culture and core values, which emphasizes innovation, accountability, development and compassion for patients, and offers the opportunity to be part of a cross-functional team with diverse perspectives. After several months with the organization, here's what a few had to say about their internship experiences.

Alexa Sternberg heads back to the University of Richmond this fall with real world experience and confident in her decision to pursue a career in healthcare. With the U.S. Digital Marketing Patient Support team, she helped map patient experiences, evaluated current patient education and support initiatives across multiple teams, and recommended novel ways to help patients better navigate through their journeys. "I am grateful for the chance to work with such a talented team that is so passionate about helping patients. I learned so much about the healthcare industry and had truly a rewarding experience."

Anuj Kataria, who interned with the Digital Marketing team, said he immediately felt welcomed and was able to interact and learn from many people throughout the organization. "I knew from the get-go that I had made the right decision to intern at Daiichi Sankyo," said Anuj, an Information Systems and Business major at The George Washington University. "I owe it all to Daiichi Sankyo, especially my managers, for helping in clarifying that a career in marketing is something I would like to pursue post-graduation."

"I have always had a keen interest in providing care for others in need whether it be my family or someone I met for the first time," said Jessica Saini, a PharmD student at Fairleigh Dickinson University who interned in Global Regulatory Affairs. "My career goals are in the healthcare industry, and this internship with Daiichi Sankyo has helped me solidify my interests in Regulatory Affairs."

Srinaath Perangur, who interned with the CMC Operations and Management team, is considering a variety of career paths, including the pharmaceutical industry, biotech and academia. "Interning at Daiichi Sankyo has been a wonderful experience," said Perangur, a dual major in Chemical Engineering and Classics at Brown University. "I'm excited to see how I can apply what I learned here to whichever career path I choose."

The future of the healthcare industry is undoubtedly in intelligent, thoughtful and compassionate hands. While they complete their formal educations, Daiichi Sankyo looks forward to seeing how the next generation will make their mark.