Mentorships Open Windows of Opportunity for Women Across Daiichi Sankyo, Inc.
Mentorships Open Windows of Opportunity for Women Across Daiichi Sankyo, Inc.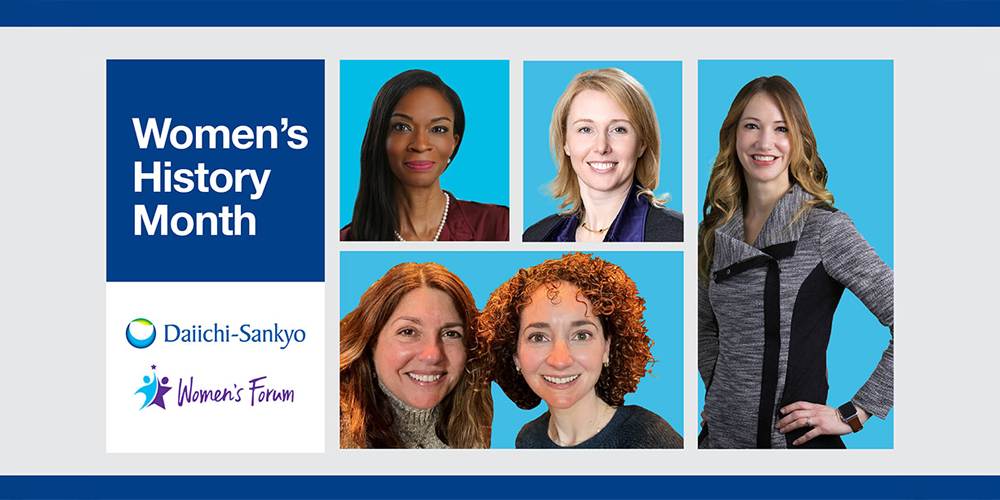 While they worked remotely, mentees made strides in professional and personal development—along with lasting connections with colleagues—through our Women's Forum Mentorship Program.
As a relatively new member of the Corporate Finance team, Manager Lauren Fields, wished to strengthen relationships with her team, improve her communication skills and continue her education. Jennifer Samp, PharmD, PhD, Director, U.S. Medical Affairs, sought a perspective outside her regular network, someone who could help her think more broadly about her career path.

Lauren and Jennifer are among the 50 mentees who participated in the inaugural year of the Daiichi Sankyo, Inc. Women's Forum Mentorship Program. The Women's Forum, an organization open to all Daiichi Sankyo, Inc. employees, fosters professional and personal growth, while supporting women to achieve their goals and realize their fullest potential. The Mentorship Program empowers participants through trusting and authentic relationships and positive role modeling.
Based on the results of an in-depth survey, Lauren was matched with Hilary Kelly, Assistant General Counsel, Legal & Corporate Affairs, who has been with Daiichi Sankyo for nearly 13 years. Together, they agreed to meet virtually every two weeks, over Microsoft Teams, with Lauren keeping a running list of topics and questions to discuss with Hilary.
Near the top of the list was improving her executive presence, a challenge Lauren met head on by volunteering to introduce a guest speaker at the opening of a Women's Forum webinar. "Hilary helped me gain a lot of confidence to put myself out there," Lauren said. "As a result, I feel much more comfortable with my presentation style, and I am seeking new opportunities to continue developing my communications skills."
The secret to being a good mentor? Hilary said it helps to go into the relationship with an open mind and a commitment to be genuine. "Sharing my experiences with Lauren and hearing her perspectives has allowed me to learn a lot and reflect. It's been a chance for both of us to grow."
During their introductory meeting, Jennifer's mentor, Mila Tartakovsky, Vice President, Finance and Administration, suggested she identify some objectives to focus on, and so Jennifer made a list with input from her manager. In preparation for each session, Jennifer shared topics and questions with Mila via email Mila so they had a jumping off point. As they progressed, the conversations became more organic.
"Mila gave me new perspectives which have helped me evolve and grow as a leader. I left a number of meetings with key takeaways that have stayed with me. In different professional situations, I have heard and been guided by Mila's words of wisdom from our conversations."
According to Mila, a strongpoint of the Women's Forum Mentorship Program is the model of pairing mentees with mentors from different functions. "I don't think we want people mentoring people with the same background. Diversity, whether it be educational or functional, opens minds for mentors and for mentees. It broadens your perspective," she said. "Besides, a mentorship should be a judgement-free relationship void of competition."
A Commitment to Our Talent
The Women's Forum Mentorship Program is indicative of the value Daiichi Sankyo places on the growth and development of the women in the organization, according to Judy Coddington, Vice President, Global Quality Assurance, and Co-Executive Sponsor of the Women's Forum. "We want women's voices to be heard and to create an inclusive culture that develops talents."
Judy, who has benefitted from being mentored throughout her career and actively gives back now as a mentor herself, says the key to success is all in the approach. "We need to become not so much leaders but 'openers,' because openers give you an opportunity to be vulnerable, creating a space for you to grow," she said. "When you open up for others, they in turn feel comfortable knowing you are on the journey with them. The mentoring program gives this openness to our colleagues."
Although the mentorship program formally ended after nine months, Hilary and Lauren decided to keep their twice-a-month meetings on the calendar so long as the sessions are meaningful. "Our time together is productive, fun, and beneficial for both of us," Hilary said. "I'm happy to continue building on the work we've done to address issues that are important to Lauren."
Daiichi Sankyo, Inc. is committed to investing in its talent through initiatives such as the Women's Forum Mentorship Program. For its second year, another 50 mentor/mentees were matched and group mentoring circles were added to meet the overwhelming demand.