Creating a 'Dream Team' to Accelerate Development of New Cancer Medicines
Creating a 'Dream Team' to Accelerate Development of New Cancer Medicines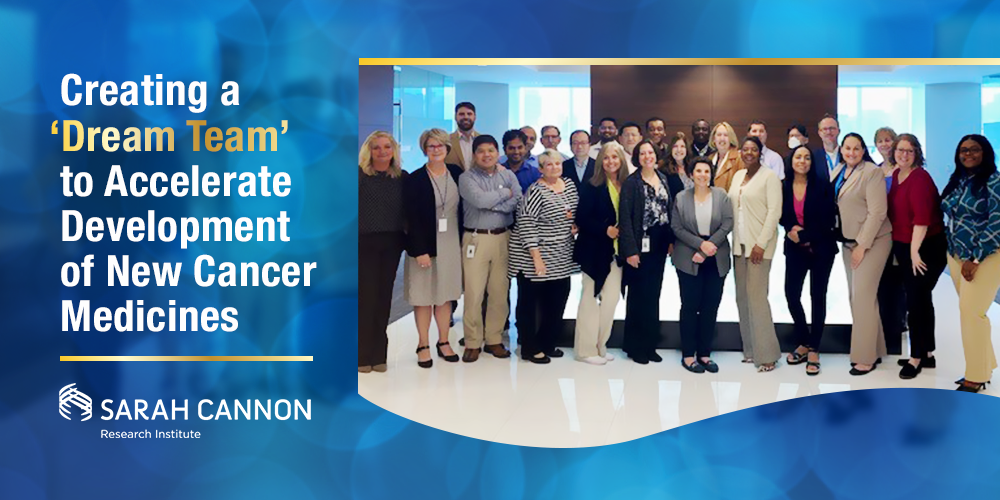 Daiichi Sankyo and Sarah Cannon Research Institute (SCRI) announced a strategic collaboration at the end of 2018 that brought together a 'dream team' -- a unique lineup that leverages the strength of Daiichi Sankyo's science and technology with SCRI's leadership in early-stage clinical trial execution.
The goal: to work together to accelerate the development of new medicines to improve the standard of care for patients with cancer.

Drafting the team
Daiichi Sankyo was in the infancy of its transformation into a global oncology company. It had just successfully completed important proof-of-concept work for its third innovative antibody drug conjugate (ADC) and had at least four others lined up on the bench, waiting for the opportunity to enter clinical development.

"We believed we had an obligation to deliver these potential new medicines to patients as quickly as possible. However, at the time Daiichi Sankyo was working to expand its limited in-house oncology development capabilities," said Arnaud Lesegretain, Vice President, Oncology Clinical Development. "We were looking for a unique partner to form a strong collaborative relationship, different from the typical contract research organization, and one that had particular experience in antibody drug conjugates."

The SCRI partnership was a perfect fit. With its extensive expertise in early-stage clinical oncology research, SCRI has led more than 600 first-in-human clinical trials, putting them at the forefront of understanding the needs of patients with cancer.
"Drug development is a team sport – there are operations, site relationships, and a drug development team. In the perfect model, you have a pharmaceutical company, a contract research organization and a site management organization synergized to speed development and facilitate the work," said Howard A. "Skip" Burris, III, MD, President, SCRI. "In our relationship with Daiichi Sankyo, all these groups are working together as partners, not vendors."

Under Dr. Burris' leadership, SCRI has continued to grow, now treating thousands of patients at more than 250 locations in 26 states in the U.S. through a new joint venture with US Oncology Research.

Winning moments
The collaboration is progressing strong after four years, with many wins to celebrate. "We enrolled the phase 1 trial of Daiichi Sankyo's B7-H3 antibody drug conjugate in record time, exceeding expectations and the original timeline, and rapidly moving it from the first-in-human setting to further development," said Marcy Vallone, Vice President, Development Innovations at SCRI.

"We also were thrilled that Daiichi Sankyo provided us with our first opportunity to run a first-in-human study jointly in the U.S. and Japan," continued Marcy. "It was critical that we could develop a model to successfully deliver jointly across these two countries, and we have been grateful to leverage Daiichi Sankyo's expertise and partnership vision to make this operational model highly successful across multiple studies."

Inspiring through personal connectivity
Special relationships have formed on a personal level, inspiring the team to do the best job possible day in and day out crafting medicines for patients with cancer. This includes sharing insights about the culture and traditions of Japan and those that are specifically unique to Nashville, Tennessee in the U.S. with one another.

"Sharing stories and cultural experiences are an important part of how we have established comradery, trust, and collaboration between our team," continued Dr. Burris. "Throughout the past four years, we have formed close relationships with our Daiichi Sankyo colleagues and been able to celebrate events such as promotions as well as the births of children and grandchildren."

"When our teams visited Tokyo in Japan, the Daiichi Sankyo team introduced us to their native Japanese foods, which was fun and unique," added Marcy. "When the team came to Nashville in the U.S., we introduced them to hot chicken, which almost resulted in a call to the fire department!"

Together, Daiichi Sankyo and SCRI are making more of an impact in the field of cancer research than each one alone.