The Advantage Tennis Gave Me as an Inclusion & Diversity Leader
The Advantage Tennis Gave Me as an Inclusion & Diversity Leader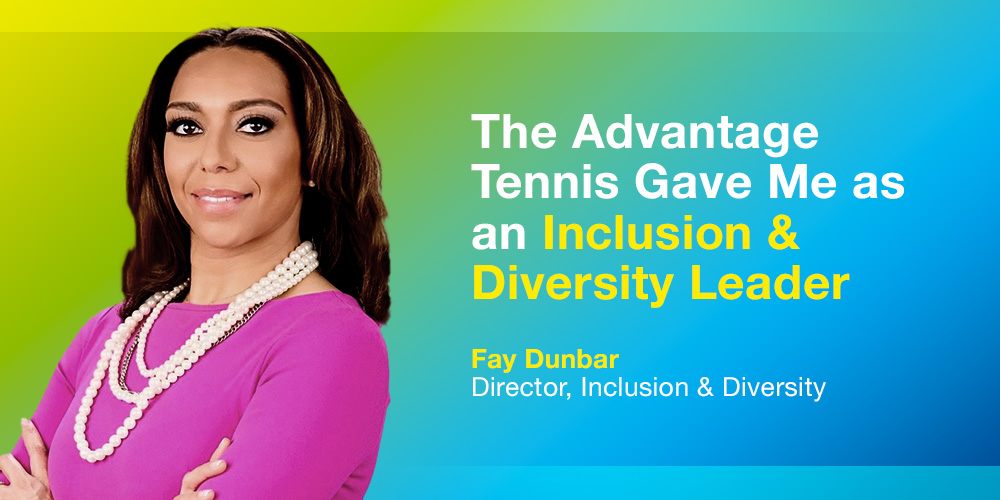 Growing up in the 1980s as an African-American girl who loved tennis, I was keenly aware of the inequities in the sport and how they translated into the world around me. I looked up to two legends of the game: Arthur Ashe, the first black person to win the U.S. Open and subsequent Grand Slams, and Billie Jean King, an openly gay activist who on the court shattered records and off the court fought for equal pay for women in sports. King spoke up when it was unpopular, and her voice rings in my head to this day.

Both Ashe and King opened doors for me to play competitive tennis through college. They helped shape my dream to live in a world where all people have equal opportunity to do what they want and be who they want to be, regardless of their background, gender or difference.

Inclusion is Our North Star
At Daiichi Sankyo, we intentionally put "Inclusion" before "Diversity" because without inclusion in the front seat, this work fails. Data clearly shows how diverse teams drive business growth and innovation. Our work cannot solely be about increasing diversity, we must ensure everyone has not just a seat at the table, but a voice in the room. Only by creating a sense of belonging for all can we achieve the outcomes we seek.

Developing Our I&D Muscle
Thanks to the passion and commitment of our people, we are learning, growing and having bold conversations. Inclusion trainings provide a deep dive into the dimensions of diversity. Our Business Employee Resource Groups (BERGs) empower employees to celebrate one another and create programs that raise awareness around areas of identity.

One of our newest BERGs is BELIEVE. Led by a group of courageous and committed employees, BELIEVE (Black Employees Leading in Inclusion, Excellence, Vision, and Empowerment) has built a community that amplifies minority voices and increases their visibility inside the organization. The BERG is also working with external groups to address gaps the healthcare industry faces in hiring, development and mentoring black talent. Their initiatives connect back to our I&D strategy by providing solutions to advance people of color where they have been overlooked, increase outreach to HBCUs (historically black colleges and universities), and give back to underserved communities.

Why I Want to Do This Work Here
I am driven by the belief that if you are working on a challenge that can be solved in your lifetime, you're thinking too small. Inclusion is that big challenge for me. While it won't be achieved in my lifetime, I am able to contribute to the building blocks of this work for future generations.

I started my career in the finance industry and brought my experiences to Daiichi Sankyo while at a personal crossroad. I had just lost my beloved mother to cancer when I was offered the opportunity to join this organization which fully shared my vision for a place where all generations, ethnic groups and genders are able to succeed and thrive as they bring the company's mission to life. The fact that I'm able to do my life's work at Daiichi Sankyo, where innovations in oncology are creating better tomorrows for patients with cancer, is game, set, match.