Jazz and Transformative Medicine – the Perfect Harmony
Jazz and Transformative Medicine – the Perfect Harmony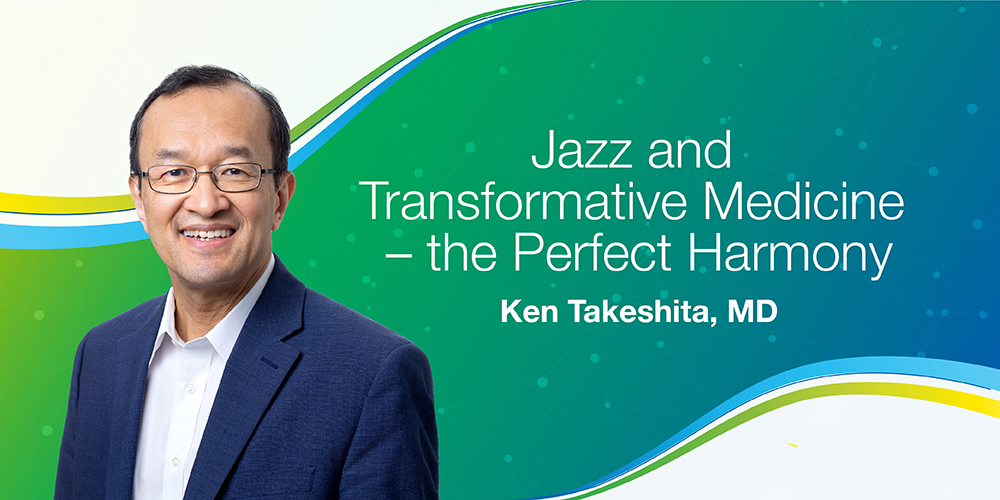 Growing up in Delaware in the U.S., Ken Takeshita, MD, had the dream of becoming a professional saxophone player and joining Doc Severinsen, the famous trumpeter and leader of the house band on The Tonight Show, a long running and very popular late night TV talk show in the U.S. So much so that Ken spent hours after school practicing and taking lessons, and even went into his first year of college at Harvard University with an elaborate plan to transfer to the nearby Berklee College of Music in Boston to further study his beloved instrument and jazz music.

It was during his first year at Harvard when Ken's favorite aunt, who lived in the Oimachi area of Shinagawa in Tokyo, passed away from breast cancer. "She always was telling me that I should become a doctor to help people," said Ken. "Up until that point in my life, I kind of ignored this advice."

The death of his aunt was the trigger that made him change course. He became a serious student of molecular biology, eventually pursuing a medical degree at Yale University, followed by positions of increasing responsibility in academia and the pharmaceutical industry at Amgen, Celgene and Kite Pharma to most recently being appointed as the global head of R&D at Daiichi Sankyo with its main research hub located in Shinagawa.

Life, in a way, has come full circle for Ken.

The future of medicine…
Still in its infancy when Ken turned to study it at Harvard, molecular biology was considered to be the future of medicine. One of his professors believed that it was vital to better understand the biological action of DNA to develop new medicines or technologies that could better treat cancer or other diseases.

Among the medical fields, hematology was an early adopter of molecular biology, and Ken focused on becoming an expert in molecular biology of bone marrow function, hematopoiesis and leukemogenesis, eventually treating patients, teaching medical students, and running research laboratories at both Yale and New York University.

"Academic lab research was fun and fulfilling, but I felt that it had very limited direct application to patients," said Ken. "I felt that research within the pharmaceutical industry was far better suited to have meaningful impact on patients."

…is bright at Daiichi Sankyo
Every disease, every patient is distinctive and different scientific approaches are required to treat each one. Ken was drawn to join Daiichi Sankyo due to its known scientific heritage and expertise in antibody drug conjugate (ADC) technology, as well as its plans to transform itself from a Japanese pharmaceutical company to a global pharmaceutical company based in Japan, However, he did not fully appreciate how deep and broad the company's science was until he joined as the global head of R&D in March 2021.

"Daiichi Sankyo's strategic pivot into transforming into a leading oncology company not only takes a huge amount of courage and bold decision making, but it also requires shifting from a Japan-focused company to one with a global mindset," says Ken. "This is an incredible challenge, and I was drawn to be a part of this challenge."

- Ken Takeshita, MD, Global Head, Research & Development

Ken remains impressed with the innovative science stemming from the research bench in Shinagawa and takes a cue from his beloved big band jazz to lead and support scientists across disciplines to work collaboratively to create the medicines of tomorrow.

What makes big band jazz standout from other types of music is that jazz starts with all members of the band playing a melody, then each musician will take a turn improvising, spontaneously creating music showcasing their instrument, while the other band members accompany softly in the background. Then the music ends with all band members playing the melody together. What is impressive is that the sum of the parts is far greater than what each individual person can create.