Veterans Across U.S. Help Carry Out Daiichi Sankyo's Mission
Veterans Across U.S. Help Carry Out Daiichi Sankyo's Mission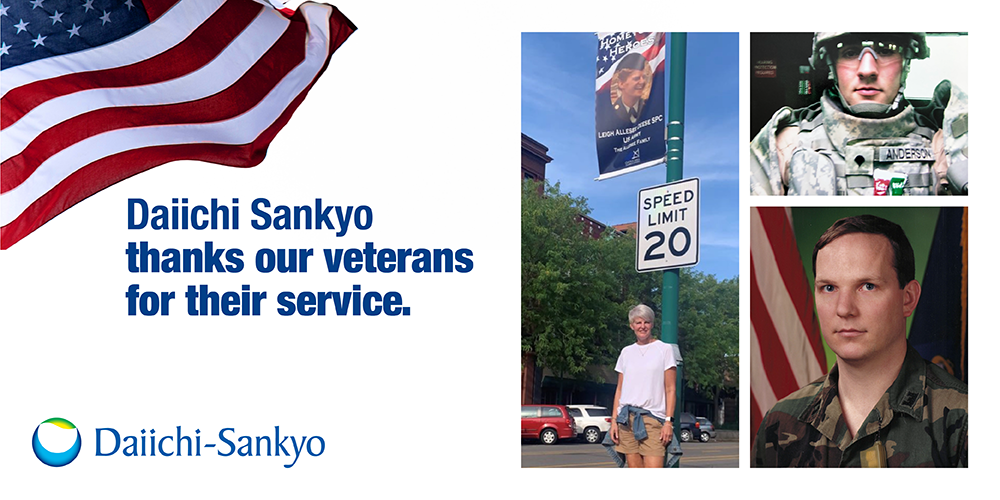 Loyalty, duty, respect, selfless service, honor, integrity and personal courage. Michael Orlowski, VP, Supply Chain and Technical Operations , still recalls the core values of a soldier nearly 20 years since he retired as a Major in the U.S. Army and Army National Guard. Those values, Orlowski believes, along with leadership training and experiences gained over two decades in the military, set him up for success in the private sector.
Orlowski is a U.S. military veteran contributing to Daiichi Sankyo's global mission— to contribute to the enrichment of quality of life around the world through the creation of innovative pharmaceuticals, and through the provision of pharmaceuticals addressing diverse medical needs.
Leader at 22
Military service opened up the world to Orlowski. It meant the difference between attending local community college while living at home and a full scholarship to Syracuse University for serving four years of active duty following graduation. While stationed in Germany, he became an engineer platoon leader at age 22 and soon after was promoted to logistics officer for an engineer battalion. After 9/11, he was mobilized as part of the Pennsylvania National Guard and served in the Commonwealth's Emergency Operation Center.
"The U.S. military provides leadership training and experiences very early in one's career. Learning that the mission and the team are more important than the individual, including the leader; trust is the most important ingredient in high performing teams; and character is the foundation of leadership are three lessons not learned in the classroom. These lessons and others have served me well in my professional career," Orlowski said.
Generations of Service
For Brandon Anderson, an Oncology Territory Manager based in Salt Lake City, gratitude for freedom and a sense of duty to serve one's country were instilled in him from a young age by his father, as well as his grandpa who served in the Korean War and an uncle who was a Colonel in the Army. When the thrill-seeking teenager was about to graduate high school and was considering his different options, enlisting was a "pretty easy" choice.
As a combat engineer during the Iraq War, Anderson was deployed to Fallujah and Ramadi, where his company was assigned to clear the routes of IEDs (improvised explosive devices) to create safe passages for supplies and missions. "Having been in combat, I feel like I have a second lease on life," said the former U.S. Army Sergeant/Squad Leader. "Every single day, I am grateful for what I have, my family, my career, because I saw first-hand what it's like to live in a war-torn country."
Anderson said the army taught him how to be organized, disciplined and detail-oriented, as well as the importance of teamwork. "Because of the really hard things I had to do in the Army, I feel prepared for whatever problem or challenge I face. Anyone looking at pharmaceutical sales as a career should feel confident their skills are transferrable since they are trained to work as a team and do their part to make their team work."
Lessons, and Language, Learned
When Leigh Deese, an Oncology Territory Manager based in North Carolina, was two years into college, she didn't know what she wanted to do. Deese decided to pause her "traditional" education to follow in her father and grandfather's footsteps by joining the military. She never could have imagined she would end up in California at the Defensive Language Institute studying Russian. Deese trained intensively for 12 months to become a Russian linguist and was stationed in Fort Ord where she used her new language skills to protect the country, including during Desert Storm.
"My experience in the military was invaluable, instilling in me a strong work ethic, self-discipline and the ability to adapt to different situations," said Deese, who ultimately earned her bachelor's degree in chemistry. "I have a sense of pride for having served my country and gratitude for all veterans who went into combat."
Deese, who met her husband while studying Russian, also has the perspective of a military spouse. "When my husband was deployed in northern Iraq, we didn't have cell phones and communication was not easy. It's hard for both the military member and for their family—everyone makes a sacrifice."
At Daiichi Sankyo, we are grateful for our veteran colleagues, and all veterans, for protecting our freedoms to innovate and deliver medicines to patients around the world.