Corporate Management Information - Takeshita
Ken Takeshita, MD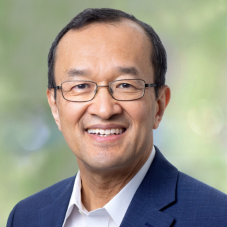 Dr. Ken Takeshita is the Global Head of Research & Development at Daiichi Sankyo. As Head of Global R&D, Dr. Takeshita chairs the Global R&D Committee and the Global Executive Meeting of R&D (GEMRAD), the top decision-making bodies in R&D, and oversees the R&D organization in the Americas, Europe, Japan, Asia and Australia.
Dr. Takeshita joined Daiichi Sankyo in March of 2021 coming from Kite Pharma (now part of Gilead Sciences) where he was Senior Vice President and Global Head of Development since 2019, and interim Head of Research.
Prior to Kite Pharma, Dr. Takeshita served as Senior Vice President of Clinical Research at Sorrento Therapeutics. He has led full-scale development programs across solid tumors and blood cancers at Celgene Corporation and Amgen, including over a decade at Celgene as corporate vice president of clinical research and development, leading and overseeing global phase 1-3 trials for registration in hematologic malignancies. Before joining the biotechnology field, he was on the faculty in Hematology at Yale University School of Medicine and New York University School of Medicine.
Dr. Takeshita earned a bachelor's degree in molecular biology from Harvard University and his MD from Yale University. He received post-doctoral training in hematology, oncology and developmental biology at Yale and in hematopoiesis at University of Tokyo. Having practiced medicine as a physician and running independent research programs at Yale and then NYU, Dr. Takeshita has first-hand experience with patient care from the physician perspective.
As of April 2021