The Future of Our Global Oncology Development is Bright
The Future of Our Global Oncology Development is Bright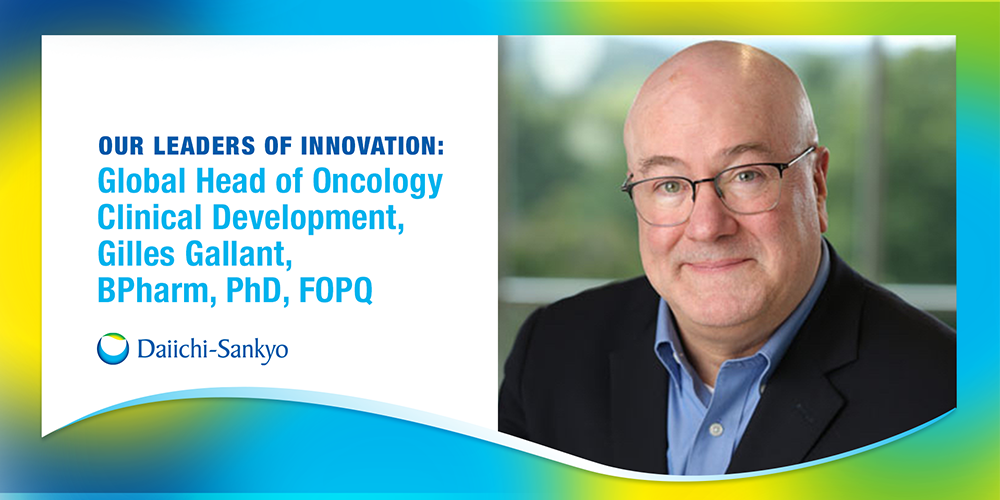 Our Leaders of Innovation: Global Head of Oncology Clinical Development, Gilles Gallant, BPharm, PhD, FOPQ
Unraveling the intricacies of cancer fuels the passion of medicine development for our head of global oncology development
Gilles Gallant, BPharm, PhD, FOPQ has spent the past three decades pursuing his passion for science and working to unravel the intricacies of cancer with the ultimate goal of crafting medicines to outsmart it.
As the Senior Vice President, Global Head of Oncology Development, Dr. Gallant heads a team of approximately 40 global clinical leads and physician scientists, who play an instrumental role in shaping the delivery of every medicine in the oncology pipeline of Daiichi Sankyo.
Under Dr. Gallant's leadership, the company's HER2 directed antibody drug conjugate (ADC) became one of the fastest biologics ever developed in oncology, taking only four years and four months from first patient enrolled into the phase 1 trial to an approval in the United States. Now, he is looking to apply the lessons learned from this and other experiences to advance Daiichi Sankyo's entire oncology pipeline and bring innovative treatment approaches to patients with cancer.
Breaking down the complexities of cancer
Starting at an early age, Dr. Gallant was fascinated with the scientific process: how scientists put forward a hypothesis and then try to prove it.
This curiosity led Dr. Gallant to pursue advanced degrees in pharmacy and medicinal chemistry. It was during his doctoral studies in Canada where he synthesized new drug targets in collaboration with the U.S. National Cancer Institute (NCI) that his specialization in cancer medicine development began.

I have always been interested in better understanding the complexities of cancer. I chose to pursue a career as a scientist in the biotechnology and pharmaceutical industry as I believed it was the best path for me to help as many people as possible through the development of innovative cancer medicines.
- Gilles Gallant, Senior Vice President, Global Head, Oncology Development, Daiichi Sankyo
After his academic training, Dr. Gallant spent close to 25 years in oncology clinical development at several companies including Bristol Myers Squibb, Human Genome Science and BioMarin across Canada, Europe and the United States. Starting as a clinical scientist and then holding roles of increasing responsibility across clinical development and clinical operations, Dr. Gallant gained expertise in many critical aspects of medicine development, which eventually led to him leading both regional and global teams responsible for the strategic development of specific medicines or portfolio of medicines.
With all of this under his belt and having published more than 150 articles in peer-reviewed medical journals, Dr. Gallant was the first industry pharmacist ever to be named a Fellow of the Ordre des Pharmaciens du Québec (FOPQ) for his impressive international career in oncology research and for the impact he has had on the life of thousands of patients by developing new oncology medicines.
"I joined Daiichi Sankyo only a few months after initial phase 1 data for the company's lead ADC were presented at the ESMO Congress," said Dr. Gallant. "I remember thinking that these results were stellar, and this was a medicine that had the potential to make a significant impact for many different cancers. These data, along with the rest of the promising oncology pipeline, were the reasons why I decided to join Daiichi Sankyo."
The Future is Bright for Daiichi Sankyo and our Patients
Every cancer is different and requires different scientific approaches to try to treat each one. Exposure to working on many different tumor types and learning the intricacies of many different types of cancer has given Dr. Gallant unparalleled oncology expertise and led him to be promoted in 2019 to oversee the clinical development of Daiichi Sankyo's entire oncology pipeline.
"I've been fortunate to work on the development of medicines that have become standard of care to treat various forms of solid tumors including breast, ovarian, lung, gastric and prostate cancer along with blood cancers such as leukemia and lymphoma. I am very fortunate that I get to apply this experience at Daiichi Sankyo as we continue to advance science to create new medicines," said Dr. Gallant. "The future is bright at Daiichi Sankyo as we are working on making further improvements to our ADC technology, along with discovering and developing other novel biologics, small molecules, gene and cell therapies in order to tackle cancer at every angle."